An interview with industry veteran, Mike Haberman and guest appearances by the 'cast' of the Back to the Future movie.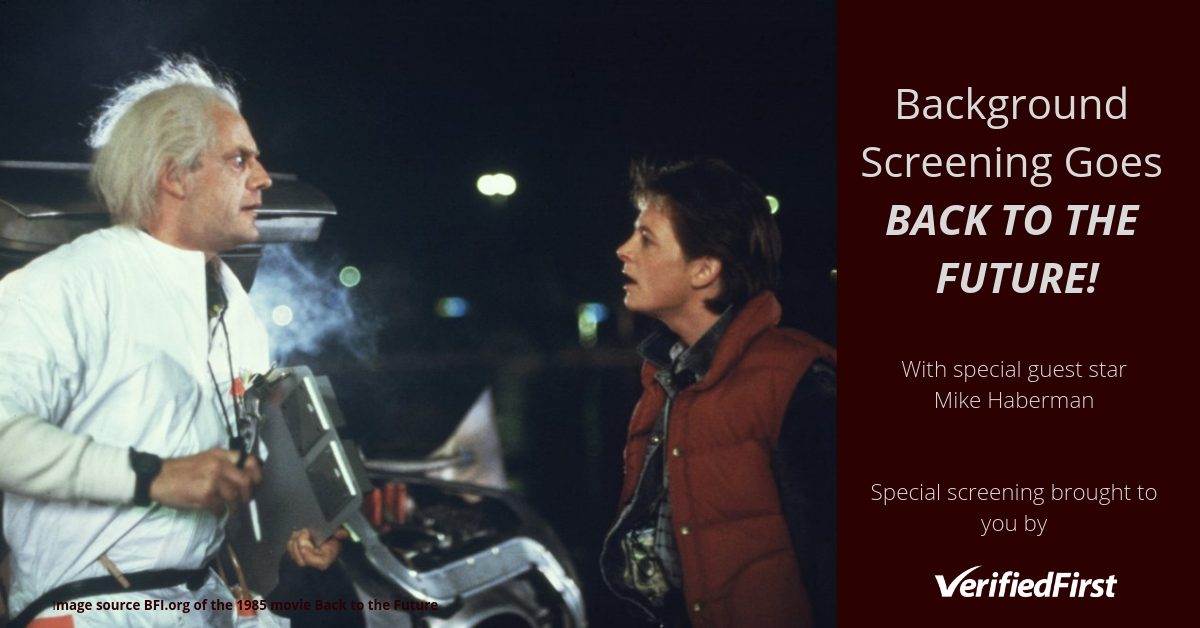 Mike Haberman is an HR expert and consultant with over forty years of experience in HR as a practitioner and consultant. As we started the year, we sat down with him to go back in time and talk about how the world of background screening has changed, and forward in time to peek into the future.
The 'cast' from the movie Back to the Future weighed in, including Doc. Brown, S.S. Strickland, George McFly and Marty McFly. Marty thinks it's pretty heavy…
---
Verified First: Tell me about your experience with background screening.
Mike Haberman: I've been in human resources for about 40 years, both in corporate positions and as a consultant. One of my earlier jobs was a recruiting manager for a manufacturing company, and back then we focused largely on checking references as part of the hiring process—that was considered a good-enough background check.
Doc Brown: Great scott!
Verified First: How did the practice of "true" background checks emerge?
Mike Haberman: People started objecting to just doing reference checks as they began to realize they were getting only one side of the candidate's story—the subjective side. With opinion weighing heavily in the decision to hire a candidate for a job, those seeking employment began suing companies for things like defamation of character and libel.
S.S. Strickland: As I've said before and I'll say again, I've never seen you before in my life, but you look to me like a slacker!
Verified First: How did the companies react to the change?
Mike Haberman: Companies started putting policies in place that only permitted references to be provided by the HR department. As a result, all HR was able to do was to confirm whether the candidate was employed there, and nothing more.
Doc: More needed to be done. Hiring organizations were just was not thinking fourth dimensionally!
Verified First: How did you and other HR professionals react to this?
Mike Haberman: Instead of personal references, we started using background checks to confirm things like degrees, criminal records, and driving records. For me as a recruiting manager, tracking down all this information was not the most effective use of my time. So, we started moving to hiring third-party organizations to conduct background checks.
George McFly: And that's where I say I'm your density. I mean, your destiny. Did I mess that line up again?
Verified First: What are the reasons some companies avoided background checks?
Mike Haberman: The FCRA has so many strict rules that many companies just quit doing background checks to avoid worrying about compliance. I think that's a major mistake. I remember reading it was considered to be insulting if you didn't take a candidate's word for where they worked and the nature of what they had done. But today, you're playing with fire if HR doesn't conduct due diligence.
Marty McFly: Whoa, this is heavy.
Verified First: When did it feel like background screenings became the norm?
Mike Haberman: They were starting to become mainstream in the late 90s to the early 2000s. And now today, technology has developed enough so that background checks are much easier to do. You can now get results in 24 hours, so it doesn't slow down HR's decision making. A lot of companies do a pre-employment screening once they've made a hiring decision, and at that point they want and need the information quickly.
Doc: As I've said… roads? Where we're going we don't need roads.
Verified First: Is there anything you would like to see changed when it comes to background screening?
Mike Haberman: The EEOC put out guidelines on the effective use of background checks, and I'd like employers to follow those guidelines more. For example, a lot of companies have on their applications "Have you ever been convicted of a felony?" For a lot of companies, if you check that box, you don't get the job. According to the EEOC guidelines, before recruiters eliminate someone because they've been convicted of a felony, we should consider the nature of the conviction, time, and whether or not the crime is related to the job.
Doc: Well, good luck for all our sakes. Didn't I already say that?
Verified First: How do you think pre-employment screening will change in the future?
Mike Haberman: Future generations will see the value of doing background checks, and they won't immediately dismiss anyone with a criminal background. There will be more tolerance.
Doc: Just like I said. Your future hasn't been written yet. No one's has. Your future is whatever you make it. So make it a good one.
Check out the most modern iteration of background screenings at Verified First, and as Doc says, "See you in the future."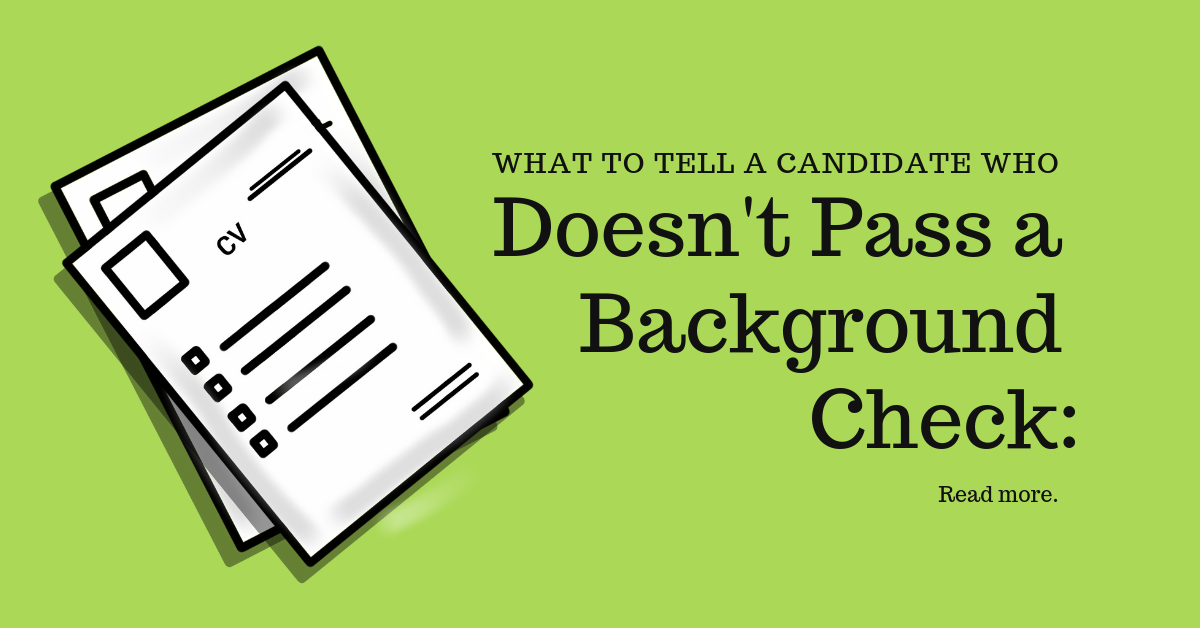 For many of us at some point, we are going to be faced with having to give a candidate bad news about their background check results and candidacy with our company, in other words, we are rejecting you. Often we try to soft-sell that bad news by saying "We have a candidate who more closely matches our needs." However, depending on how you set up the hiring scenario, that may be a lie. What then?
It depends.
When a Background Check Just Doesn't Check Out...
Employers do a variety of things with background checks, from having a statement on the application asking about convictions, to not checking until after the candidate has been hired. Both of those options are not good ones in my opinion. The first one goes against the current trend of "ban-the-box", the movement to eliminate consideration of a candidate's criminal background in your employment decision. According to the 
National Employment Law Project
, 11 states and 60 municipalities have enacted ban-the-box ordinances prohibiting employers from asking about arrest records at the time of application. Granted most of these prohibitions are on government agencies but not all are. There are some prohibitions on private sector employers as well in some states and cities. ​
The second option, of waiting until the person is hired, is foolish. You may as well not do it at all and save the money. Of course, that is foolish too. You have an obligation to your employees and customers not to hire someone that could potentially harm them. This requires doing the background check before hire. The question becomes at which time? Many companies today wait until they have selected the final candidate and then make an offer contingent upon successfully passing a background check. That is all well and good until you come across a candidate that does not pass, which then brings us back to the question in the title. You have now lost the option of saying to that person "We have found a candidate who better meets our needs." You would be lying in that situation.
Document Your Decision-Making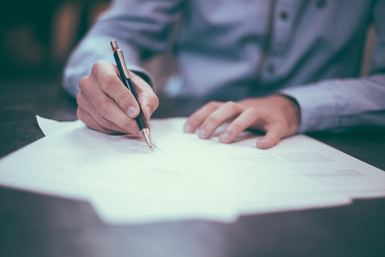 The EEOC has provided guidance for employers to help them make decisions about employees who are found to have criminal records. They suggest using an individualized assessment for each situation. This means you talk to the candidate and discover the circumstances about their personal situation. Just off-handedly rejecting them may put you into the dangerous territory of possible discrimination. These individualized assessments need to include the following:
Additional facts or circumstances surrounding the offense.

Age at the time of the offense or the time of release.

Evidence that the individual performed the same type of work post-conviction with no known incidents of criminal conduct.

Employment history before and after the offense.

Rehabilitation efforts.

Employment or character references along with any other information regarding fitness for the particular position.
All of this requires talking to the candidate. 
Roy Mauer
, writing for SHRM, suggests that you set up some sort of matrix guide for the positions in your company to guide your decision-making in this type of situation. This way you can protect the company from charges of discrimination by showing a reasoned, business decision for the action you have taken.
Don't Forget the FCRA
Of course, if you do decide to reject the candidate on the basis of the criminal background check, don't forget to comply with the requirements of the 
Fair Credit Reporting Act
. This is a two step process. First, you have to inform them that a negative decision might be made. You have to provide them with the following:
A copy of the consumer report that was obtained and relied upon to make the decision.
The name, address and phone number of the 

background screening company

 that provided the screening report.
Then wait for them to respond. If no adequate response to the background check is given, then you have to send a final notice that the decision has been made not to hire them. The second notice must include:
The notice must include:
The name, address, and phone number of the consumer reporting company that supplied the report.
A statement that the company that supplied the report did not make the decision to take the unfavorable action, and can't give specific reasons for it.
A notice of the person's right to dispute the accuracy or completeness of any information the consumer reporting company furnished, and to get an additional free report from the company if the person asks for it within 60 days.
It is a tough decision to make, and an even tougher conversation to have with a candidate – but you have to be guarded about blowing this off. Following the 
EEOC guidelines
 and the 
FCRA regulations
 will keep you legal and may help you get the good employee you originally wanted.
For additional, related insights, check out:
For more from Michael Haberman, check out his articles on 
Omega HR Solutions
 and 
The SHRM Blog.
3 Bases Covered with Background Checks
​​My favorite baseball team is headed to post-season play for the first time since 2013. My wife and I are partial season ticket holders. The reason we have these tickets is that the team built a new baseball park closer to our house and we wanted to be a part of that excitement. It has been fun so far, but every time I go to the ballpark it makes me wonder about the logistics of hiring new employees, in order to ensure the safety and well-being of 30,000-40,000 fans on 62 days out of the season. ​From the employer's standpoint that involves a lot of work, including the process of background checking all those workers. It is worth it, however. In early 2017, the company in charge of security for 
Minnesota Vikings' US Bank Stadium
 and other major venues failed to conduct adequate background checks and hired people with felony convictions without getting the proper clearances.
Why background check?
 That may seem like an obvious question to some, but many of the employees at a sporting venue are part-time workers. Many companies may feel that it's not necessary to 
background check
 part-timers. As a Human Resources professional, I feel that notion is completely wrong.  In an alarming case in 2016 at 
Nashville Predators Bridgestone Arena
, a temporary laborer was accused of raping another employee while on the job. The accused was on the state's sex offender registry following a 2008 conviction for assault with the intent to commit sexual abuse. Many things could go wrong in a ballpark, or any sporting venue for that matter. I think it's important that each management team responsible for guest well-being should take the subject of visitor safety and well-being very seriously.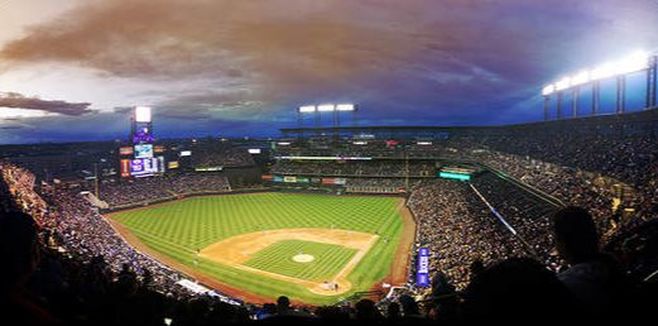 3 Bases Covered
The variety of workers responsible for guest well-being run a long gamut of people. These include:
Security people responsible for checking people coming into the ballpark. In this era of hyper-awareness, people still bring weapons to the ballpark, either intentionally or unintentionally.
Ushers are responsible for guiding guests around the park and making sure they're finding the correct seats and not blocking the view of other guests. In the section we sit in, that can be a full-time job. The visitors' bullpen is right in front of us and the visiting team's fans want to get a closer view. The ushers in our section are constantly having to move fans. Some do it well and keep the goodwill of the visiting fans, others not so well and they leave fans with a sour experience.
The vendors that walk the stands hawking beer, ice cream, and more deal with a great deal of cash. Employers certainly don't want them skimming money. I'm pretty sure there's a method to prevent that, but it helps to have avoided hiring people that have a history of theft.
What about volunteers?
Many sport venues also allow volunteer groups to staff food stands as a fundraising opportunity. Should these volunteers be background checked as well? I believe that should be a requirement of the agreement with the venue authority. Just because the worker is a volunteer does not lessen the potential impact of any wrongdoing they may engage in. Volunteers can steal and assault just as an employee might. Why take the risk? If you hire volunteers, whether for sporting events, schools, or other, check with your background checking provider and see what's available, in order to easily check the backgrounds of volunteers.
What has changed in background screening since that historic day?
As we acknowledge the anniversary of September 11th, 2001 I think we can all agree that the world has substantially changed. For employers, we have seen an increase in the use of background checks in the hiring process. As an outcome an increase in the perceived abuse of background checks occurred, resulting in a push-back on the part of governments. We have also seen changes in how workers view what they perceive as "intrusions" into their personal backgrounds. Let's explore these changes in the almost two decades since 2001.
Greater use of background screening
According to
SHRM
, in the year 2000 only 50% of employers used the background checking process. It was considered a luxury by employers at that point. It was also an arduous, paper driven process that slowed down the hiring process. Then the terrorists attacks happened on September 11, 2001, and employers became more careful about who they hired. By 2010, the number of employers using background checks had increased to 76% of companies doing background checks, and 73% doing criminal checks. More recent research I conducted reveals that
95% of employers
now use some aspect of the background checking process.
Prior to 2000, there was no national trade association, industry standards, or definitive publications on background screening. That has changed today as there is the
National Association of Professional Background Screeners
and an
accreditation process
.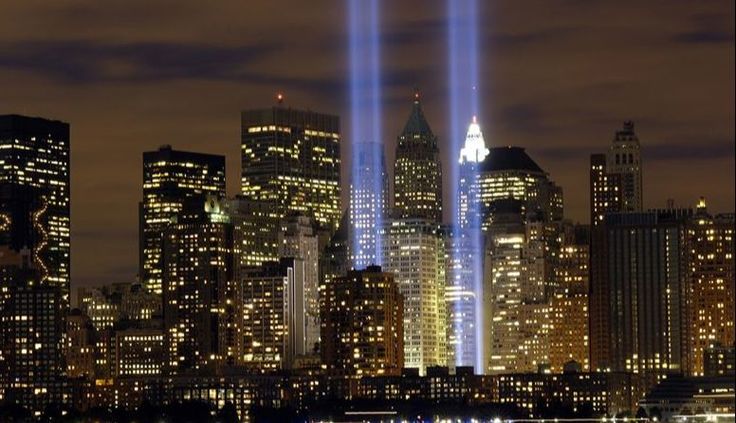 Legal changes impacting background screening
Originally passed in 1970, the Fair Credit Reporting Act (FCRA), was originally intended to protect people in the process of having their credit reviewed by businesses. It was extended to the process of background checks under the coverage of Consumer Reporting. Today background checks are covered by both the Federal Trade Commission and the Equal Employment Opportunity Commission (EEOC). It is important to pay attention to the notification requirements of the FCRA if you are going to take action against a prospective employee, but the EEOC changed their position on using information, as I wrote in
EEOC Issues New Restrictions On the Use of Background Checks
. In the EEOC documents they said:
There are two ways in which an employer's use of criminal history information may violate Title VII ("disparate treatment discrimination"). First, Title VII prohibits employers from treating job applicants with the same criminal records differently because of their race, color, religion, sex, or national origin.
Second, even where employers apply criminal record exclusions uniformly, the exclusions may still operate to disproportionately and unjustifiably exclude people of a particular race or national origin ("disparate impact discrimination"). If the employer does not show that such an exclusion is "job related and consistent with business necessity" for the position in question, the exclusion is unlawful under Title VII.
In addition to the EEOC provision on the use of criminal background checks, many states and municipalities have instituted "Ban the Box" legislation that prohibits even asking an applicant about any criminal conviction in their background, as I discussed in 
Should Employers "Ban the Box
"?
Background screening trends
There are a number of other trends that are occurring in the background checking business. One of the areas that many employers wanted information on in a background check has been salary history. Because of the current move to strive toward salary equality, there have been many jurisdictions on the state and local level to eliminate using someone's salary history in the hiring process.
Rather than just checking backgrounds at the new hire stage, many companies are starting to institute periodic background checks at milestone dates or events in an employee's tenure. As with any background check, permission must be granted by the employee.
The rise of contingent workers
​
As the nature of the world of work has changed to include many more contingent workers, such as part-timers, temporary workers, or even so-called "gig" workers, some companies are opting not to engage in the background process. I have come across companies making just such a decision, against my counsel. "Bad" people can come into your companies through any number of ways, and using the background check can prevent loss wherever it may come from. 
Increased speed and reduced costs
One major change that has taken place since 2001 is that the technology used has increased substantially, and the speed of response on requests has dramatically been reduced, so response-time no longer stands in the way of making a hiring decision. Prices will vary and response-time may be dependent on the agency with whom the provider is checking, but generally today 
background screening providers 
are fast and dependable and well worth the peace of mind the employer gets about its new employee.
Despite the fact that you can use the Internet to try to find information on an employee or prospect, there are many potential liabilities to this approach. Think about all the problems with "truth" on the Internet and you will find you are better off using a professional service who can guide you through the in-and-outs of dealing with a multitude of legal landmines. Verified First is just that background screening firm to contact.