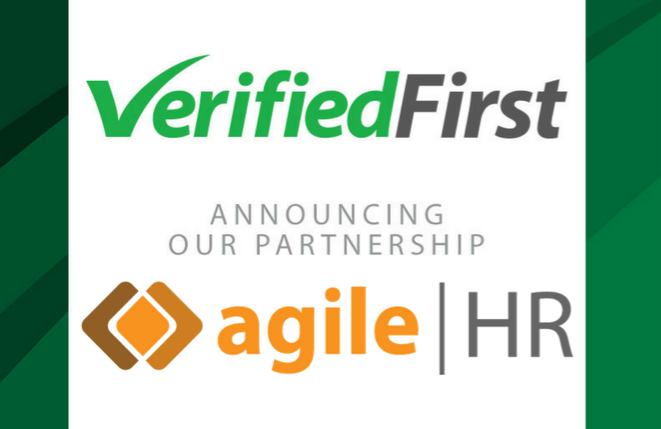 ​Verified First, the premier background and drug screening company in North America,
announced that their screening tools are available through integration with AgileHR, an industry
leading Talent Management Software that includes Applicant Tracking, Employee Onboarding,
Performance Management and Human Resource Information System (HRIS). As the premier
pre-employment screening provider, Verified First brings a wide variety of background
verification services to companies who utilize Agile's system. The SaaS applications offered by
Verified First and Agile are integrated via a patent-pending technology developed by Verified
First.
Verified First's integration can be completed within minutes at no cost to the user. Once
complete, Verified First's portal allows users to request a variety of background screenings on
prospective employees. The portal interface is intuitive and designed to encourage users to
comply with FCRA and EEOC laws that govern background screenings, making it easier to
comply with these important regulations. These features, combined with Verified First's
proprietary technology, significantly improve time-to- hire when screening candidates.
These screening tools are valuable for companies who use AgileHR to manage their talent
pipeline and find great candidates. AgileHR provides a flexible system that uses a performance-
based approach to hiring. Their platform allows companies to easily identify top candidates and
compare them to top performing benchmark employees. AgileHR eliminates the need for
paperwork, integrates with every major job board, and is easily modified to meet client needs.
Placing Verified First's background screening solutions within AgileHR's system will create even
more value for companies.
"AgileHR has a comprehensive and flexible approach to the hiring process. Because of our
shared focus on helping clients with talent acquisition, our partnership is a natural fit and will
provide great value to companies using the AgileHR platform," said Devon Dickinson, CEO of
Verified First.
The leadership team at AgileHR also were quick to praise this new partnership.
"Providing clients with intuitive workflow, simple setup, and flexible solutions has always been a
primary focus for AgileHR." Eric Carlson, Agile's CEO stated. "From the moment we saw
Verified First's Platform, we knew they embraced this core philosophy and would be an
excellent fit for our client's background checks needs."
About AgileHR
Agile helps organizations recruit, onboard, and manage top talent without the stress and expense of clunky enterprise level systems. We are an industry leading, online Talent Management company. In business since 2010, our priority and focus has been on creating systems that make employers and employees better at what they do. Our applications feature intuitive screens, solid business logic, strong auditing capabilities and is supported by great customer service. Visit us at www.agilehr.com.
About Verified First
Headquartered in Meridian, Idaho, Verified First is the premier background and drug screening company. Our customizable search solutions help companies of all industries validate and verify potential employees. We take pride in our ability to work with organizations of all sizes, and our global reach enables us to solve even the toughest background screening challenges quickly and efficiently. www.VerifiedFirst.com

Contact: Ian Bellais, Director of Business Development, Verified First, LLC. ibellais@verifiedfirst.com, direct: 888-852-8504