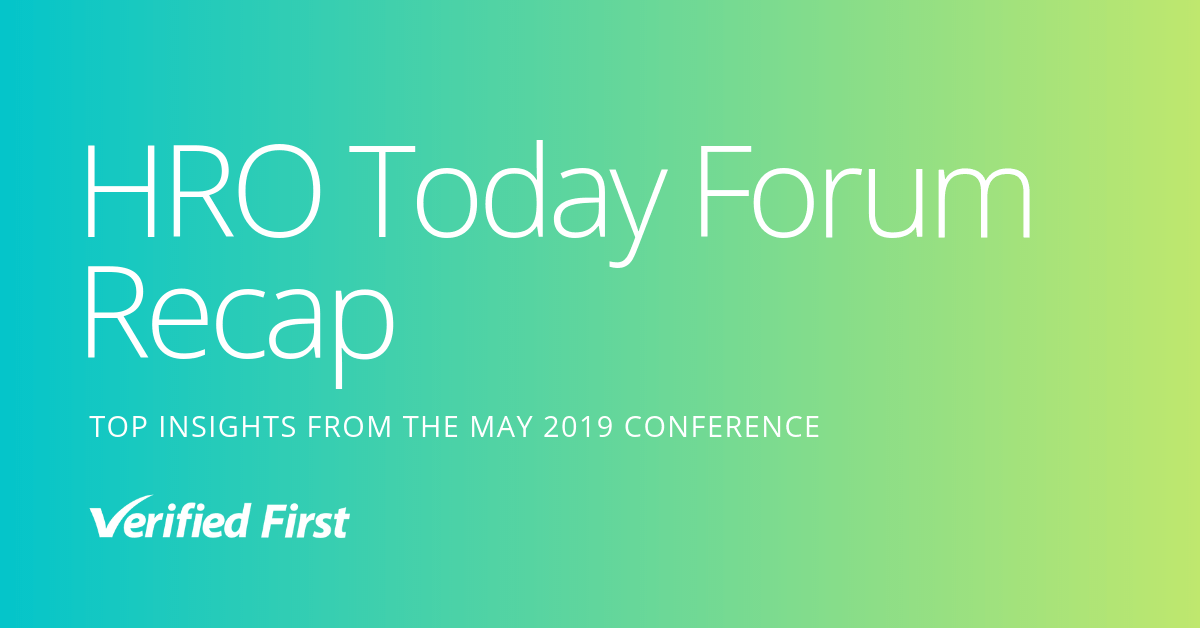 See which topic was most tweeted about, which session was the most 'electrically charged', and what HR has to do with art.
HRO Today held its annual conference in National Harbor, Maryland from May 6-8. Technology, quality of hire and inclusion were the big themes of the conference, which balanced engaging sessions with fun social events and presentations. Here are five of our favorite sessions.
The Challenges and Opportunities of Quality of Hire
Curtis Grajeda, Founder and Managing Partner, LevelUP
Quality of hire continues to be one of the biggest conversation topics in HR, and for good reason. A fast time to hire might get a new employee in the door quickly, but if that employee isn't a good fit, your time to hire doesn't matter. Curtis Grajeda, founder and managing partner of LevelUP, talked about how companies should focus on quality of hire during the hiring process. Then, they should continue to monitor quality of hire as a metric to see how to continue to improve the hiring process.
Want to know more about Quality of Hire? Check out our check out our Quality of Hire Resource Center.
HR Debate: Can Robots Run Many HR Functions?
Lots of conferences have panels which turn into lively discussions. HRO Today took this a step further, and set up formal debates among experts. A group of HR executives talked about the question that's on many people's minds-- will robots replace HR jobs? Since HRO Today found that 57 percent of companies use some sort of AI, and that 54 percent of companies plan to implement AI technology, it indeed was a lively session.
Some of the panelists argued that yes, it is a threat, and HR professionals should work on increasing their skills so that they're not replaceable by AI. Other panelists said that HR professionals and AI will be able to work in tandem. Then, the panelists said that AI can't function without HR professionals, so it's a useful tool for recruiting, but it won't take away jobs.
The panel included:
Roger Gaston, Senior Vice President, Human Resources, Gates Corporation
Rebecca Sinclair, Chief People and Communications Officer, American Tire Distributors
Debbie Bolla, Editorial Director, HRO Today
Nancy Hauge, Chief Human Resources Officer, Automation Anywhere
Cindy Fiedelman, Chief Human Resources Officer, Digital Realty Trust
An Expanded Focus - Inclusive Engagement
Jacqueline Welch, Chief Human Resources Officer, Freddie Mac
Jacqueline Welch, CHRO at Freddie Mac, talked about how to genuinely build a diversity and inclusion strategy. The majority of Freddie Mac's employees are minorities, so Jacqueline had lots of valuable insights on how to recruit and retain diverse employees. She said it's about much more than just hiring diverse candidates. Instead, diversity and inclusion is about a mindset that carries throughout the company. Her company hires diverse employees, yes, but then Freddie Mac uses the differences of their employees as tools by forming diverse and collaborative teams. They also actively work through unconscious bias to make sure they're hiring the best people. Freddie Mac found that their employees were happier, and their business benefited from it.
Employer Branding: How To Attract The Next Gen Workforce
Kathryn Minshew, CEO & Founder, The Muse
Kathryn Minshew, CEO and founder of The Muse, gave a talk during the Employer Brands Awards Breakfast that was the most tweeted about session at HRO Today, and for good reason. She talked about how to recruit millennials and Gen Z workers in a refreshing way that offered clear, actionable advice. She explained that millenial and Gen Z candidates research a company's reputation and culture much more than Baby Boomers and Gen X.
This is good news, considering Kathryn said that 88 percent of recruiters say that an informed candidate is a quality candidate. But it also means that companies need to focus on their employer brand more than ever-- what makes your company stand out, and how will you use that to attract candidates?
The Art of HR
Dan Dunn, Speed Painter
HRO Today wisely balanced informative sessions with entertaining sessions with the help of Dan Dunn, a speed painter. The HR world knows that recruiting is an art, and Dan turned that into a literal statement at the HRO Today Forum. In an afternoon session, Dan quickly painted three paintings that were associated with HR. The crowd went wild, and three people got to take the paintings home!
Technology, quality of hire and diversity are sure to continue to be a topic of conversation at other HR conferences. For a tool that combines technology with the ability to determine quality of hire and even the playing field with diversity, use a credible background screening company.