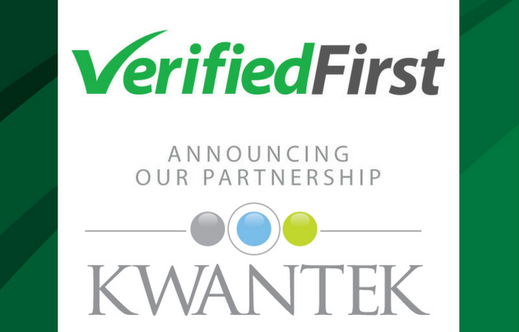 In-house screening tools will improve efficiency of hiring process
Verified First, the premier background and drug screening company in North America, announced that their screening tools are available through integration with Kwantek, a unique and powerful pre-hire solution that integrates directly with a company's website. As the premier pre-employment screening provider, Verified First brings a wide variety of background verification services to companies who utilize Kwantek's system. The SaaS applications offered by Verified First are integrated via a patent-pending technology.

Verified First's integration can be completed within minutes at no cost to the user. Once complete, Verified First's portal allows users to request a variety of background screenings on prospective employees. The portal interface is intuitive and designed to encourage users to comply with FCRA and EEOC laws that govern background screenings, making it easier to follow these important regulations. These features, combined with Verified First's proprietary technology, significantly improve time-to-hire when screening candidates.

This integration is a natural fit because of Kwantek's focus on hiring efficiency. Their solution integrates directly with a company's website, eliminating paper trails and hours of work for HR and administrative staff. They also provide their Kwantek Operating Style assessment, which allows more efficient filtering of candidates. Through narrowing down candidates ready for hire, hiring costs are the time to fill open positions are significantly reduced. Because of the efficiency of Kwantek's solution, one client reduced the time it took to fill a position from 25 to 10 days.

"Kwantek is an exceptional solution that eliminates many hiring pain points. Through improving the client's bottom line with a faster hiring and onboarding process, our partnership delivers great value," said Devon Dickinson, CEO of Verified First.
Kwantek's leadership team was also optimistic about this new partnership.
"Our new partnership with Verified First is a win for our clients," says Jeff Davis, VP of Sales at Kwantek. "This integration gives our customers access to a premier background screening vendor directly from the Kwantek portal. Our clients are going to love the quick implementation and simple interface. "
About Kwantek

Kwantek provides a unique and powerful PreHire Solution that integrates directly with a company's website. Job seekers complete the entire application process, including the Kwantek Operating Style assessment, which allows for more efficient filtering of the candidate pool. This eliminates paper trails and hours of work for hr and administrative staff and, most importantly, allows time to focus on candidates that are ready for hire, reducing hiring costs and increasing client satisfaction and profits.
Kwantek companies realize immediate savings from technological improvements and automated systems, then long-term savings as the revolving door on employee turnover closes.
Our company name is inspired by the Native American god Kwatee, the god of change, improvement and transformation. With that in mind, the Kwantek team is dedicated to providing the most efficient and cost-effective ways to transform businesses and, most importantly, improve profitability.

About Verified First

Headquartered in Meridian, Idaho, Verified First is the premier background and drug screening company. Our customizable search solutions help companies of all industries validate and verify potential employees. We take pride in our ability to work with organizations of all sizes, and our global reach enables us to solve even the toughest background screening challenges quickly and efficiently. www.VerifiedFirst.com

Contact: Ian Bellais, Director of Business Development, Verified First, LLC. ibellais@verifiedfirst.com, direct: 888-852-8504

888-852-8504


888-852-8504

888-852-8504


.