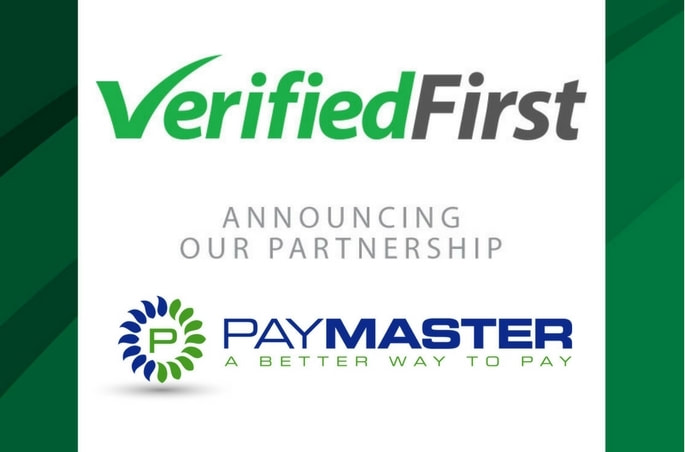 ​Verified First, the premier background and drug screening company in North America, announced a partnership with PayMaster, a payroll processing company which focuses on customer service at the most affordable prices. This partnership will make Verified First's comprehensive background screening tools available to thousands of PayMaster's clients.

Verified First's portal allow users to quickly request a variety of background screenings on prospective employees. The portal interface is intuitive and designed to encourage users to observe FCRA and EEOC laws that govern background screenings, making it easier to comply with these important regulations. These features, combined with Verified First's proprietary technology, significantly improve time-to-hire when screening candidates.
Verified First's capabilities provide great value to PayMaster's client solutions, which have expanded from their start of only offering payroll processing. In addition to providing payroll solutions, they also provide Employment Recruiting/Onboarding, Human Resource Support, and more. Because of PayMaster's investment in technology and software deployment, Verified First recognized an opportunity to give their clients a competitive advantage through faster backgrounding screenings.

"PayMaster has invested in giving their clients a world-class experience not only with payroll, but also with many other aspects of the hiring process. We are thrilled to partner with a company that prioritizes a streamlined client experience," said Tommy Cheng, President of Verified First.
PayMaster's leadership team were also enthusiastic about this new partnership.
​Romeo Chicco, CEO of PayMaster, said, "With Verified First, we have found the background search partner that has been able to fully integrate with our PayMaster HCM system, creating a seamless experience to running searches from the main employee information screen. We believe that our clients will embrace the speed and ease of the process, allowing them to incorporate searches into their new hire process if not already."
About PayMaster
PayMaster Inc. was established in 1995 with a straightforward mission: to provide the best payroll, time & labor, and human resource services available, and to do that by focusing on excellent customer service and affordable prices. Today, over two decades later, our commitment to that original mission has resulted in meeting and exceeding the needs of thousands of diverse business clients in all 50 states, Puerto Rico, and the US Virgin Islands. www.PayMaster.com

About Verified First

Headquartered in Meridian, Idaho, Verified First is the premier background and drug screening company. Our customizable search solutions help companies of all industries validate and verify potential employees. We take pride in our ability to work with organizations of all sizes, and our global reach enables us to solve even the toughest background screening challenges quickly and efficiently. www.VerifiedFirst.com

Contact: Ian Bellais, Director of Business Development, Verified First, LLC. ibellais@verifiedfirst.com, direct: 888-852-8504