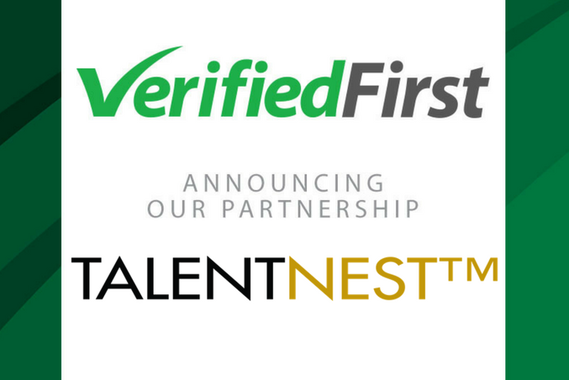 ​Verified First and TalentNest have partnered to streamline the hiring process by adding powerful background screening tools to TalentNest, a talent management software created by a company with over 35 years of research and experience in recruiting, hiring, and training. As the premier pre-employment screening provider, Verified First brings a wide variety of background verification services to recruiting professionals who utilize TalentNest. The SaaS applications offered by Verified First and TalentNest are integrated via a patent-pending technology developed by Verified First.
Verified First's integration can be completed within minutes at no cost to the user. Once complete, Verified First's portal allow users to request a variety of background screenings on prospective employees. The portal interface is intuitive and designed to encourage users to comply with FCRA and EEOC laws that govern background screenings, making it easier to follow these important regulations. As a result, companies that use Verified First improve time-to-hire when screening candidates.
These features have great synergy with TalentNest's Applicant Tracking Software, which is designed to increase the flow of quality candidates. From TalentNest's platform, users can create a custom job board and distribute to popular websites such as LinkedIn and Indeed. TalentNest also provides integrated assessments to screen out unqualified applicants, tools to track and rate candidates, and advanced reporting to help HR managers understand the ROI of their hiring process.
"In a tight labor market, being able to quickly identify and recruit top candidates is a significant advantage. We're impressed with TalentNest's platform and look forward to streamlining the hiring process for their clients," said Devon Dickinson, CEO of Verified First.
TalentNest's leadership team were also enthusiastic about their new partnership with Verified First.
"Hiring the best candidate is the number one objective for our TalentNest clients. With Verified First's technology and seamless integration, matched by their depth in background verification tools, the combined offering with our integrated assessment tools adds tremendous value to our current and future client base," said John Marshall, President of Self Management Group
About TalentNest
TalentNest is a talent management software created by SMG, a company with over 35 years of research and experience in recruiting, hiring, and training. This software offers integrated diagnostics and assessments to help you attract, manage, and rate candidates throughout the recruitment process. Streamline the selection process, hire top performers, and increase your organization's effectiveness with TalentNest!
About Verified First
Headquartered in Meridian, Idaho, Verified First is the premier background and drug screening company. Our customizable search solutions help companies of all industries validate and verify potential employees. We take pride in our ability to work with organizations of all sizes, and our global reach enables us to solve even the toughest background screening challenges quickly and efficiently. www.VerifiedFirst.com
Contact: Ian Bellais, Director of Business Development, Verified First, LLC. ibellais@verifiedfirst.com, direct: 888-852-8504