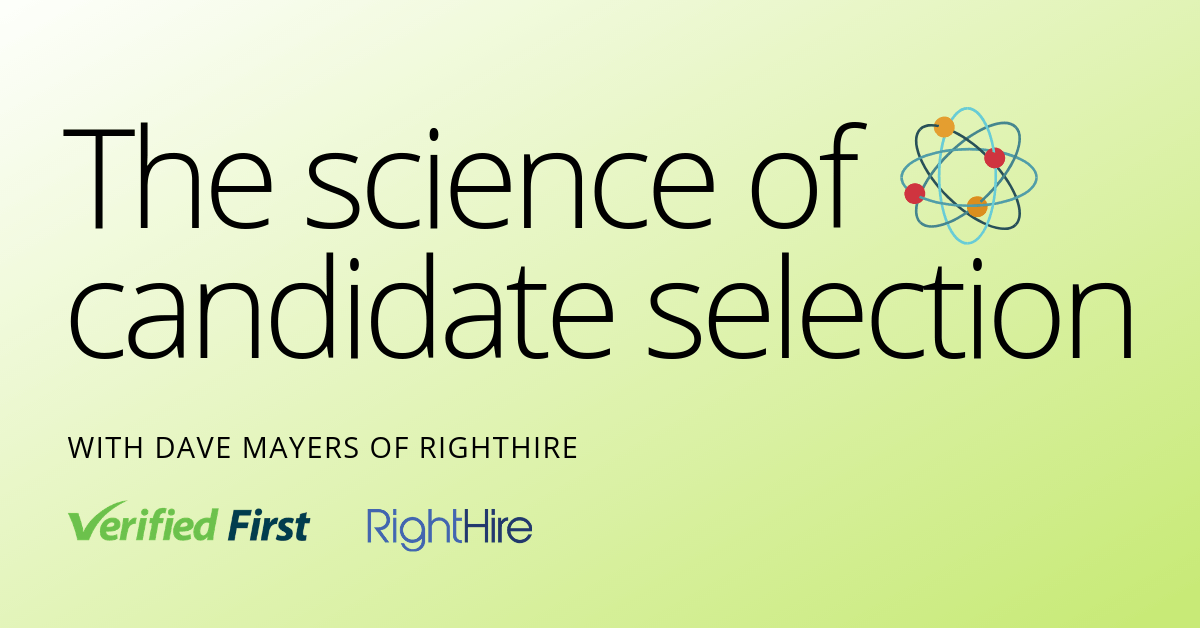 As written by Dave Mayers, Vice President of Business Development at RightHire.
In the war for talent, finding the right person for the right job can be a challenge. Addressing this challenge is something that RightHire has been tackling for years. As organizations rapidly turn toward the use of technology, it is important to know how technology can, and should, be used to achieve various organizational goals. Technologies such as Artificial Intelligence (AI) and Machine Learning (ML) are spreading through industry like wildfire and solving problems never thought possible. Within the HR landscape, we are also seeing organizations explore the use of these different technologies to increase efficiency and the quality of decision making. However, in the area of employee selection, it is important to determine if AI or ML is the best way forward. What is the best technology to use for the design and implementation of scientific selection?
Over the past decade there has been a tremendous shift toward the adoption of science within Human Resources and Human Capital Management. Not surprisingly, it is well documented that scientific selection plays an integral role in improving the success of new hires. However, there are a wide variety of different selection techniques, making the search for the right tool hard to navigate. In addition, there are several legal challenges when it comes to employee selection that have not been fully resolved. These challenges have yet to be resolved through the sole implementation of AI or ML for the purpose of employee selection. Fortunately, there is a solution to these challenges. A method that generates highly predictive, legally defensible selection assessments, which can be developed quickly and easily for any occupation. In addition, it can be used in conjunction with AI and ML to create an incredibly powerful selection process. This method is known as "synthetic validity".
What is Synthetic Validity?
Synthetic validity is a method for validating predictive measures of job performance. Unlike traditional validation techniques that focus on predicting job performance metrics, synthetic validity links General Work Behaviors (GWBs) to individual characteristics. For example, some jobs may entail a high degree of "building and maintaining interpersonal relationships", where high levels of social orientation would promote effective job performance. In other words, synthetic validity is a method used to validate selection assessments based on the relationship between individual characteristics and the work that someone does on the job.
One of the biggest challenges when designing a selection assessment is that the type of work behaviors associated with performance can change from one job to the next. Therefore, it is important to take this into account when attempting to measure relevant individual characteristics. This is something that many popular selection vendors struggle with. They tend to focus on the validity of a single set of competencies across different hiring contexts. A better approach is to customize assessments so that they better reflect the behaviors associated with the job. Synthetic validity does this by establishing a relationship between GWBs and individual characteristics. With this approach, a unique applicant profile can be established for any job via job analysis alone. That is, once the GWBs have been identified for a particular job, the individual characteristics important for performance are then known, and can be measured pre-hire. In a similar way to prescribing medical treatments based on diagnosis alone, relating GWBs (e.g., analyzing data and information) to individual characteristics (e.., mathematical reasoning), means organizations can generate an inventory of relevant individual characteristics once they identify organizations interested in adopting scientific selection. Not only is it predictive of performance, it avoids the time and human capital required to conduct local validation studies.
The Future of
Selection
It is not difficult to imagine how synthetic validity could revolutionize the HR . Not only does synthetic validity offer a quick and effective way to validate selection assessments, it has other potential uses as well. For example, understanding how GWBs relate to individual characteristics may help in the job design process. By identifying multiple GWBs that relate to single individual characteristics, organizations can create jobs that require high levels of individual characteristics across a smaller, more specialized subset. This would help improve the selection process and make it easier to identify top talent, because applicants only need to display high levels on a few individual characteristics rather a broader range.
Synthetic validity may also be able to help source or locate talent that fits well with an available position. Synthetic validity can be used to compare employee or applicant characteristics to GWBs associated with any job. Therefore, as good as synthetic validity goes forward, it also goes backward. Instead of needing people to apply for open positions, synthetic validity can be used to locate and identify those who have the best fit with a job. This can dramatically reduce the time it takes to locate hard to find talent buried deep in virtual databases or within the organizational hierarchy. All of this and more is possible when organizations decide to incorporate synthetic validity into their existing recruitment and selection process.