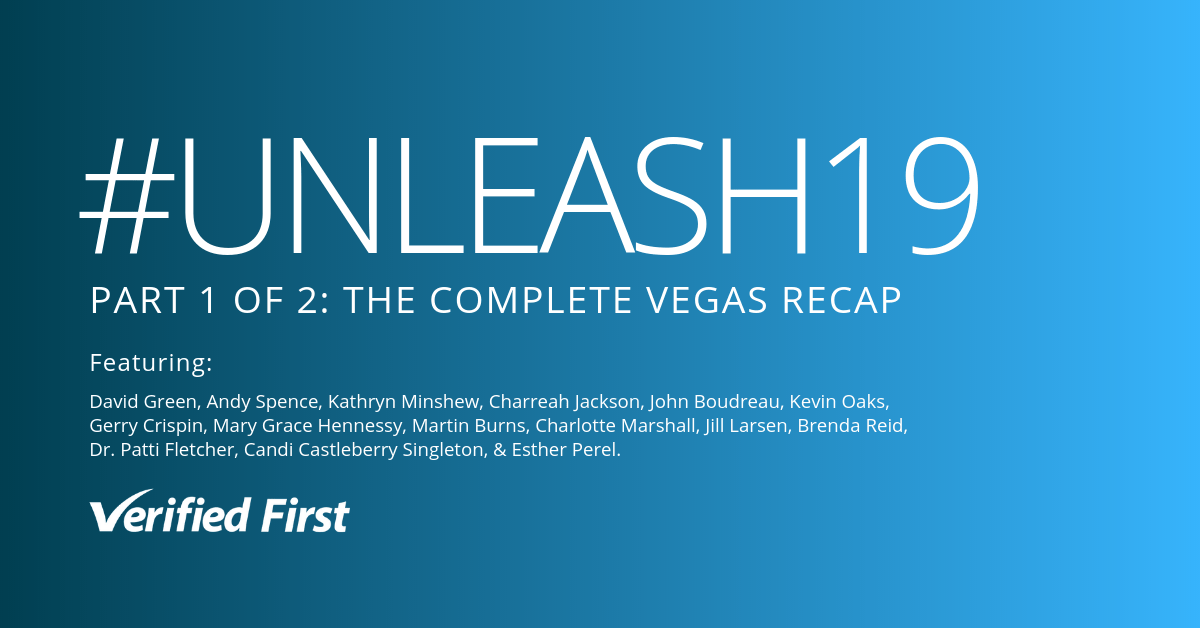 UNLEASH came to Las Vegas from May 14-15, and in just two days, it packed in more than 100 sessions, panels and roundtables. The conference talked about everything HR, from recruiting to employee engagement to C-suite transformations. If you missed UNLEASH, or just couldn't choose between all of the incredible options, here are some of our favorite sessions.
In Conversation with Kathryn Minshew: How Companies Should Adapt to Work Becoming Human
Kathryn Minshew, Founder and CEO of The Muse kicked off the conference with Charreah Jackson, author and media entrepreneur. Their conversation addressed the question on lots of HR teams' minds: How do we adapt to technology while keeping the workforce human? She explained that technology is here to streamline work, but not replace humans. By efficiently adapting technology, humans can do what they do best, which is to be creative, act empathetically, and build genuine relationships.
That said, she said there's a gap between talent tech and finding quality talent. Considering the fact that she said 89 percent of candidates would consider moving for the right job, she said recruiters should focus on writing job descriptions that make candidates consider that in the first place.
Main takeaway: Cater to your candidates like the humans they are, and use technology to increase efficiency
Reinventing Jobs: A 4-Step Approach for Applying Automation to Work
Speaking of technology, adapting it isn't really a question of if you should adapt it, but how and when you should. John Boudreau and Kevin Oaks answered this question refreshingly simply, with four steps:
Deconstruct the job. What aspects of the job can and can't be replaced with technology?

Understand the return on improved performance. Is it worth replacing these tasks with technology?

Evaluate automation options. Each automation solution acts very differently-- do your research to figure out what works best.

Reinvent the work. Once you integrate the technology, continue to adapt the technology to your needs.  

Main takeaway: Use technology in a way that allows your employees to worth with it, not against it.
Source of Hire. Sorting Through The BS. Making SoH Actionable.
It might seem easy to ask a new hire where they found out about the job, but the truth is it's a lot more complicated than that. Gerry Crispin, Mary Grace Hennessy and Martin Burns talked about how to track source of hire, and then they offered actionable tips on how to source candidates. Our favorite idea was to keep track of your "Silver medal" candidates, or the ones who made it to the last round of interviews, but you decided to go with another candidate. They're still good candidates, and you might have another role that is perfect for them.
Main takeaway: Keep track of how new hires found out about you, and stay in touch with the people you chose not to hire.
Panel: Women in Tech: Are we there yet?
This was one of the most talked about panels, and for good reason. Charlotte Marshall, Jill Larsen and Brenda Reid are some of the top female executives in the HR world, and they were moderated by keynote speaker Dr. Patti Fletcher.
They talked about how men don't necessarily actively work to oppress women in the workplace, and oftentimes, women don't actively feel oppressed. But, the workforce still has a lot of subtle barriers to women, and those barriers get taller for women in technology. They suggested that actions companies can take include: writing inclusive job descriptions that don't only appeal to men, adding more women to boards, being transparent about pay, and following up with female new hires to make sure they're comfortable in their new roles.
Main takeaway: Take clear, trackable steps to make women feel like they belong in your workplace, no matter what your industry.
#InclusionIsHappening
Candi Castleberry Singleton, Vice President of Diversity Partnership Strategy and Engagement at Twitter continued the conversation on diversity by talking specifically about inclusion, and the efforts Twitter has made to improve their D&I strategy. She talked about Twitter's ICD Council, which meets quarterly, publishes quarterly articles, and leads inclusion projects. She said her main focuses are decreasing bias in AI, discouraging candidates from self-selecting and essentially blocking themselves from progress, leading a strong social responsibility program, and demonstrating their successes to other organizations.
Main takeaway: Consider creating a D&I board that can lead your organization's diversity strategy, and listen to their suggestions.
What Business Leaders Can Learn About Workplace Dynamics From Couples Therapy
Esther Perel, therapist and best-selling author, ended the first day by building the case for why you should apply couples therapy best practices to your workplace dynamics. Considering the fact that we spend more time with our co-workers than we do our spouses, it makes sense that we should make an effort to invest in the relationships we have with coworkers. Esther talked about how to communicate expectations, how to trust coworkers, and how to navigate conflict.
Main takeaway: Marriage takes work and communication, and so do relationships with coworkers.
Hungry for more? Check out our full recap of day two!