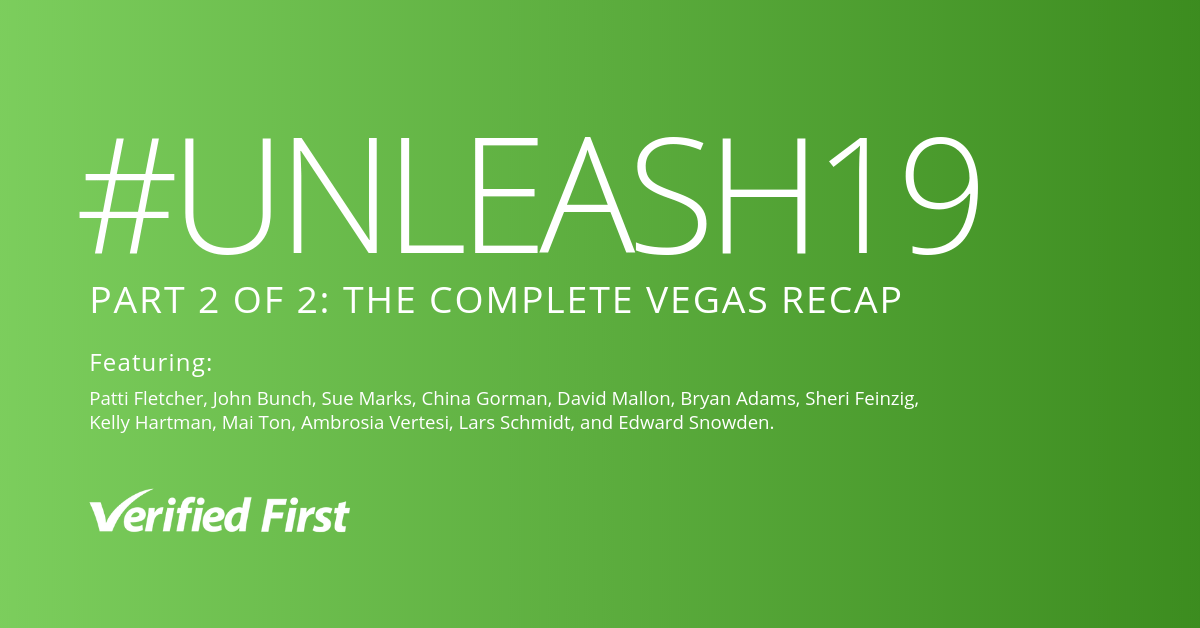 UNLEASH came to Las Vegas from May 14-15, and in just two days, it packed in more than 100 sessions, panels and roundtables, The conference talked about everything HR, from recruiting to employee engagement to C-suite transformations. If you missed UNLEASH, or just couldn't choose between all of the incredible options, here are some of our favorite sessions of the second day.
Hey, HR: It's not enough to be in the room
Best selling author Patti Fletcher started the second day of UNLEASH with an inspiring keynote about how HR teams shouldn't just be in their company's C-suite meetings, they should be leading those meetings. She explained that with the onset of technology in the workplace, HR teams are more important than ever for keeping the "human" in the workforce. She said, "It's not enough to be in the room, you have to win the room." HR teams should speak for their employees and their candidates and make the financial benefits of high-quality hires clear.
Main takeaway: HR teams need to make sure they're involved in C-suite level decisions, so that they can hire the right people and make life easier for the whole company.
Panel: From Atypical to Aspirational: Workforce Models Shaping the Future of Work
This dynamic panel, including John Bunch of Zappos and Sue Marks of Cielo, talked about the future of work and how employers can shape the future. The panel explained that employees want to be treated like humans, not just dollar signs. And yet, the gig economy is tempting a lot of employees from the traditional 9-5 jobs. The panel, moderated by China Gorman, explained how to meet employees in the middle of these options.
David Mallon of Deloitte made a particularly strong analogy: that companies should move away from the latter approach of upward mobility, and instead look at things like a climbing wall-- sometimes employees will want to move side to side, but their ultimate goal will be to move upward.
Main takeaway: Give your employees an opportunity to experiment in different roles.
The Give & the Get of Employer Brand: Repelling Talent by Design
Bryan Adams, CEO and Founder, Ph.Creative came to UNLEASH with a bold stance: Companies should work to repel candidates, instead of casting the net as wide as possible. At first this seemed totally counter-intuitive, but he made some solid points. He explained that cultures aren't actually about benefiting the employee, they're about letting the employee find what fits them best. For example, some companies have cultures of steep competition and fast paces. For some employees, this is a huge benefit and an exciting option. For others, this is totally unappetizing. Bryan explained that a company with a culture like this should make sure that their job openings should attract the former, and repel the later. This way, new hires will naturally be a better fit. The same goes for any culture.
Main takeaway: Be upfront about your culture-- make sure that the people who love it apply, and the people who don't won't bother.
Impact and Inspiration: A Research Study of an AI in HR Pioneer
IBM ran a fascinating study on how AI can change HR, and Sheri Feinzig shared the results onstage at UNLEASH. One of the most fascinating numbers was that they found that AI helped IBM recruiters become 55 percent more efficient during their screening process. Interestingly, this echoes what a lot of other speakers were saying-- AI is most helpful during the HR stages which are repetitive and involve a large volume of work. AI can search social media for good candidates, it can score the candidates based on their resume and cover letter, and it can read those resumes and cover letters. This saves recruiters time, so they can focus on the more human side of their job.
Main takeaway: IBM found that AI was particularly helpful in the earliest phases of the recruiting process: sourcing candidates and reviewing resumes.
Panel: The Evolution of the CHRO
Kelly Hartman of Flywire, Mai Ton of White Ops, and Ambrosia Vertesi of now PeopleTech Partners had a lively discussion moderated from Lars Schmidt. The panel ranged from how HR has involved, how to build inclusive teams, and organizational strategy. It also turned into a brief ranting session about buzzwords in job descriptions, and how HR teams as well as candidates are getting tired of them. Some of their least favorites were "Rockstar," "Ninja," and "Unicorn." They also talked about how CHROs as well as HR teams in general should think critically about their strategy before adding lots of tech to the equation.
Main takeaway: Stay away from the allure of buzzwords and too much fancy tech until you've refined your HR strategy.
Restoring Trust: How to Solve The Next Generation of Privacy & Security Dilemmas
UNLEASH focused on all of the benefits of AI, blockchain and other forms of big data. But at the very end of the conference, Edward Snowden talked about the dangers of not handling that data properly. Snowden, who arguably is one of the leading experts in the dangers of big data, Skyped in from an unknown location in Russia to talk infamous security lapses from places like Target, and how HR teams can avoid them. One of his biggest bits of advice? Don't obtain or keep the data that you don't need to. It might seem tempting to get as much information from candidates as possible, but this information becomes your liability.
Main takeaway: Only keep the data you need about your candidates and employees-- any extra data is just a liability.
Have you read part one of our Unleash19 recap? Catch up on all the insights here.