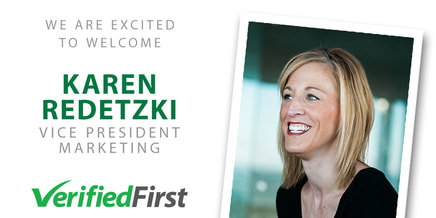 Verified First, a leading background and drug screening company, announced that Karen Redetzki has taken on the newly created position as Vice President, Marketing. With nearly 20 years experience in marketing technology solutions and over six years in the Human Capital Management industry, Redetzki has the expertise to successfully position and drive even greater growth of the Verified First brand.
Redetzki will be responsible for the marketing strategy for Verified First, from branding to lead generation. Redetzki has received numerous awards and accolades for her efforts including "Brand Power Leader" (Starr Conspiracy), "Best Live Event Marketing" (InfluenceHR), "Communicator Awards of Distinction" (International Academy of Visual Arts), and more. Redetzki looks forward to leveraging her marketing know-how at Verified First.
"I'm so proud to be an employee of Verified First," Redetzki said. "I'm in awe of their deep understanding of and care and concern for their employees, clients, and partners. Not to mention Verified First has built the first-and-only-to-market, patent-pending systems integration, which answers HR's long-awaited call for delivering a truly integrated solution."
"Karen's not only recognized as a top marketing talent within the Talent Acquisition space, but she's taken unknown brands to well-recognized, respected, and award-winning status, turning the heads of top players and investors alike. I cannot wait to see where Karen can help take Verified First", said Devon Dickinson, CEO of Verified First.
Redetzki is joining Verified First at an exciting time in its history. This year, Verified First was ranked as the 716th fastest-growing company in America on the 37th Annual Inc. 5000 list. This ranking placed Verified First as one of the fastest-growing background screening companies in the country and one of the fastest-growing companies in Idaho.