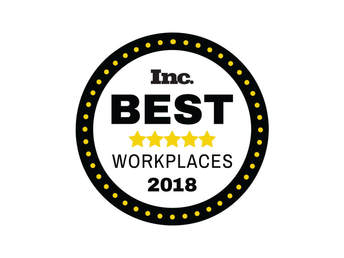 Verified First has been named one of Inc. Magazine's Best Workplaces for 2018. This prestigious honor ranks Verified First as part of a highly selective group of businesses who have created vibrant cultures, deep employee engagement, and stellar benefits. Out of thousands of applicants, Inc. Magazine only selected 300 winning companies, and Verified First was the only company based in Idaho.
Verified First has a proven track record of being honored for its exceptional workplace. The listing from Inc. Magazine is Verified First's seventh award for workplace excellence and company culture and among the most prestigious. Through a partnership with work culture experts Quantum Workplace, Inc. Magazine developed a rigorous vetting process to select the best workplaces in America.
The 2018 Inc. Best Workplaces Awards assessed applicants on the basis of benefits offered and employees' responses to a unique, 30-question survey fielded by each of the applying companies. Responses were evaluated by the research team at Quantum Workplace. For its results to qualify, each company had to achieve a statistically significant response rate based on employee count. Survey scores account for employer size to level the playing field between small and large businesses. All companies had to have minimum of 10 employees and to be U.S.-based, privately held, and not subsidiaries or divisions of other companies.
"By including an employee survey into this year's Best Workplaces selection process, we've really raised the bar. Companies that don't score at the very top of their peer group don't make the cut. So, our hats are off to the winners. They all excelled at engaging their workers, making them feel appreciated, and aligning them behind a mission. And remember, that's not just our opinion: The employees told us that themselves." says James Ledbetter, Inc. editor-in-chief.
Verified First's high ranking reflects its ability to engage its workforce and create buy-in for its mission: to make companies great by helping them make effective hiring decisions. Because of its exceptional workforce, Verified First has grown quickly. Last year, Verified First was ranked as the 198th fastest-growing company on the Inc. 5000 list, making it the fastest-growing privately-held Idaho company in 2017.
"In our company, we've built a culture of winning. Winning happens when our employees feel engaged, empowered, and supported, which is why we've created an exceptional workplace," said Devon Dickinson, CEO of Verified First.
"Our people have been an integral part of our success and we'll continue to invest in their personal and professional development. We're excited to grow and for our employees to grow with us."