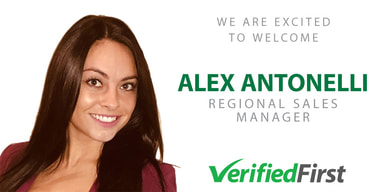 Verified First,
a leading background and drug screening company, announced that Alex Antonelli was hired as Regional Sales Manager for the Southwest Region. Based out of Scottsdale, AZ, Antonelli will be key for building relationships with clients and stakeholders as Verified First expands into new markets.

Alex's impressive sales experience at companies such as Sterling Talent Solutions make her an enormous asset to the Verified First team. Known for her above-and-beyond commitment to client satisfaction, Alex exhibits dedication in everything she does.
She's passionate about the environment and when she isn't crushing quotas, Alex can be found hiking in the Arizona desert or volunteering for the Nature Conservancy.
"We are thrilled to have a standout like Alex on our team," said VP of Sales, Mark McFadin. "Her knowledge of the industry is phenomenal and she's already building strong relationships with her clients."
Alex takes every opportunity to challenge herself, which makes her a great cultural fit for Verified First. "The way Verified First has positioned itself in the industry, both from a technology standpoint and the company's culture, is a game-changer," Alex said. "I wanted to play on the A-team, and Verified First is exactly that."
​
Alex is joining Verified First at an exciting time in its history. Last year, Verified First was ranked as the 716th fastest-growing company in America on the 37th Annual Inc. 5000 list. This ranking placed Verified First as one of the the fastest-growing background screening companies in the country and one of the fastest-growing companies in Idaho.