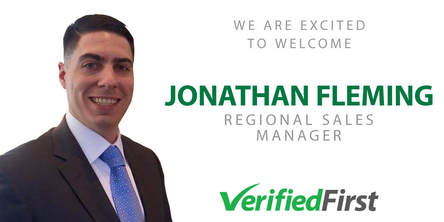 Verified First,
a leading background and drug screening company, announced that Jonathan Fleming was hired as Regional Sales Manager. Based out of Jersey City, New Jersey, Fleming will be key for building relationships with clients and stakeholders in the Eastern division.
Known for his genuine and charismatic nature, Jonathan loves meeting new people. Although he is originally from Wisconsin, Jonathan has lived all over the United States since serving eight years in the Army. He is a sports fanatic and never misses a Dallas Cowboys, Orlando Magic, Milwaukee Brewers or Wisconsin Badgers game.
Within the background screening industry, Jonathan has excelled as a leader in both sales and public relations roles. He has grown a career heading multifaceted teams to promote market growth, systems implementation and brand messaging in the B2B tech space.
Fleming's hire was highly anticipated by the Verified First team, "Jonathan's communication background makes him extremely well-suited to build meaningful relationships in this role," said Verified First's VP of Sales, Jared Balint. "He's a great addition to our team and we are excited for big things to come!"
"As a former military leader and professional, instilled teamwork and culture are the building blocks that I believe successful organizations are built upon," said Fleming. "On top of industry-changing technology, Verified First has a very infectious, 'team-first' atmosphere in which we thrive on working together and helping each other succeed."
Jonathan is joining Verified First at an exciting time in its history. Last year, Verified First was ranked as the 716th fastest-growing company in America on the 37th Annual Inc. 5000 list. This ranking placed Verified First as one of the the fastest-growing background screening companies in the country and one of the fastest-growing companies in Idaho.