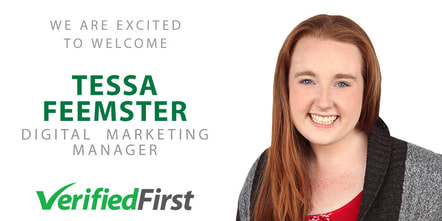 Verified First is excited to announce Tessa Feemster was hired as Digital Marketing Manager.
In this newly created role, Tessa will be responsible for managing the company's website, content, social accounts, and overall digital media strategy at Verified First Headquarters in Boise, Idaho.

Originally from the Seattle area, Tessa loves all things outdoors. She hasn't skipped a beat exploring new places to camp and hike since moving to Idaho. As a graduate of the University of Montana School of Business, w
ith backgrounds in both public relations and digital analytics, Tessa brings with her just the right blend of technical and communication know-how. She is a self-proclaimed Google Analytics nerd who loves performing SEO audits almost as much as writing witty tweets.
"I am thrilled to have joined such a strategic, high-caliber marketing team," said Feemster. "Each day brings with it new opportunities to problem solve and grow. Verified First is making big moves and I'm excited to be a part of it."
​
Tessa is joining Verified First at an exciting time in its history. This year, Verified First was ranked as the 716th fastest-growing company in America on the 37th Annual Inc. 5000 list. This ranking placed Verified First as one of the the fastest-growing background screening companies in the country and one of the fastest-growing companies in Idaho.
Welcome to the team, Tessa!