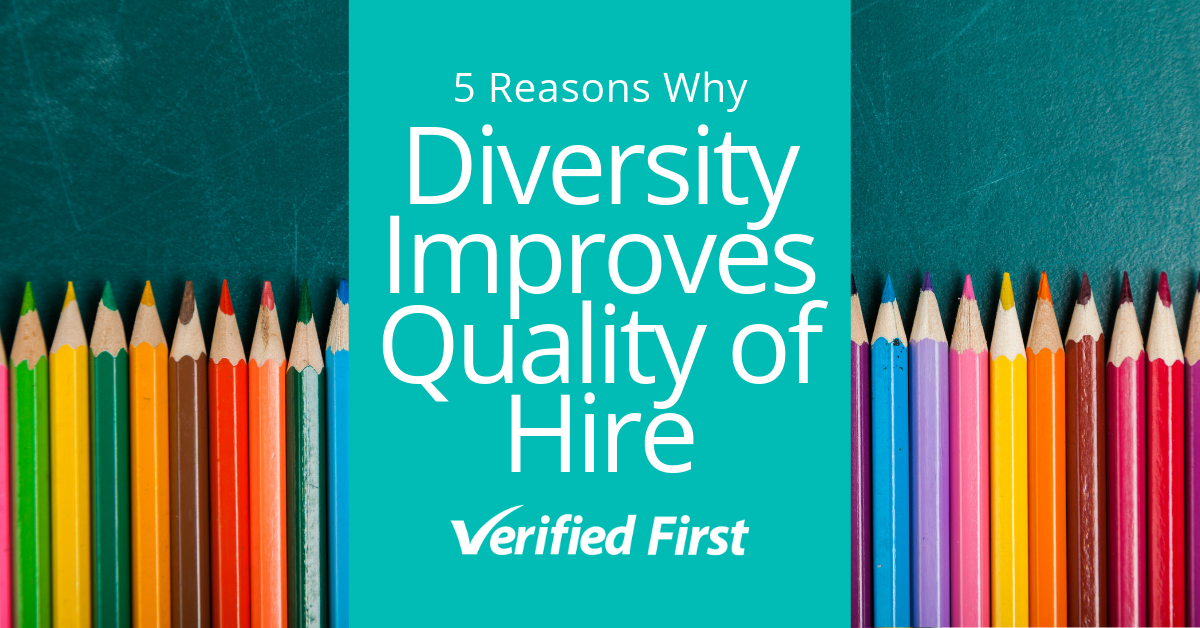 A diverse candidate's background is often what makes them a high quality hire. Their experiences and perspectives can offer a variety of benefits for any organization. Here are five of the top reasons why diverse candidates make high quality hires.
1. Candidates want to work with diverse teams
According to Greenhouse, 67 percent of candidates say they want to work on a diverse team. By hiring diverse candidates, you improve your employer brand and increase your chances of hiring quality candidates in the future.
2. Diverse perspectives inspire creativity
Diverse perspectives lead to better dialogue and ultimately, better results. According to Josh Bersin, inclusive companies are 1.7 times more likely to be innovation leaders in their market. People with cultural, racial and gender diversity all have lives that offer different experiences, perspectives and ways of thinking that will increase teams' creativity and collaboration.
3. Different types of education improves problem solving
People from diverse backgrounds generally have a variety of ways to obtain skills. For example, some candidates might have gone to trade school, others might have gone to Ivy leagues, and others might have learned by working on the job. All of these education methods teach employees to problem solve differently so that teams can tackle tough problems from multiple angles.
4. Language skills allow people to think outside the box
It's very likely that culturally diverse candidates will be bilingual. This is an obvious benefit for roles like customer service and translators, but you should see it as a benefit for any role. According to Psychology Today, people who are bilingual have better cognitive function, are able to solve problems faster, and are less likely to have internal biases.
5. Diverse employees connect with diverse customers
In a roundtable on Undercover Recruiter, Caroline Stokes, founder of headhunting firm FORWARD talked about why she looks for diverse candidates:
"I have a marketing background with Sony and Nokia, and know that if you don't have a diverse team, you end up getting the same ideas that may not appeal to the varied audience you're marketing to. As I always say 'from understanding comes growth' and I believe there's great ROI with a diverse workplace."
We're living in an increasingly diverse world, and diverse customers have a lot of purchasing power. Your employees must reflect this purchasing power. Read more about employee referral programs here.
Diversity and inclusion is about much more than doing the right thing, it's about hiring high quality candidates who can improve your company's culture, retention and bottom line. For more information about hiring high quality candidates, check out our Quality of Hire resource center. And, for more information about diversity and inclusion, visit our Diversity and Inclusion resource center.